Ch. No Doubt V Deerfield NA OA ROM
Sire: Ch. Ravenswoods Azure Sky
Dam: Ch. Gorrmae's Cashmere V Bolero
Call Name:Steffi
                                             Achievements: Best in Group Winner, Multi BISS winner, Multi Champion, ROM and performance titled producer.
Steffi was bred one time to Ch. Kettlecove N Rebayla V Zeus and produced three AKC Champions, one ROM and  multiple performance titles and a Top Twenty Agility Contender! In 2011 We lost our beautiful Steffi to Sudden Death Cardio.  It still brings tears to my eyes and she will always be missed.   I regret not having more time with our special girl who taught us and her puppies so much . She always did whatever we asked, elegantly and with a smile on her face. Steffi's dam , Asia lived to be(13 1/2 years old and her daughter Layla (5 1/2 years old) is cardio free at this time.
Two of Steffi's "puppy champions" finishing on the same day!
Ch. MACH Bolero Red Shatter V Deerfield ROM MX MXB MXJ MJB XF T2B
                                           "Spark"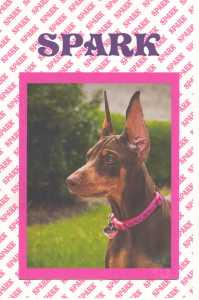 Bolero LIncoln Park After Dark V Deerfield (ptd) NA NAJ CA RATI RATO WAE
                                "Lake"
Lake winning high in trial two days in a row!  Earning her RATI And RATO!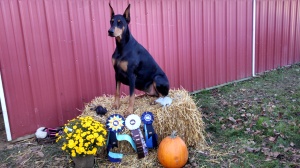 Lake's Rosettes! Lake has one leg toward her RATS Title with very  limited trials!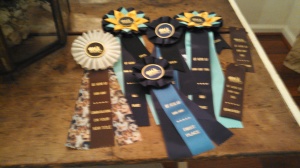 Pedigree of "BISS Ch. Bolero No Doubt V Deerfield "

Parents
GrandParents
GreatGrandParents

Ch. Ravenswoods

Azure Sky

 Ch. Cambria's Secret Desire BFL-1
 Ch. Cambria's Cavalleria
 Kaywoods Highly Classified
 Ch. Wendorf's Phenomenon

 Ch. Ravenswoods Sweet

Ms. Behavin

Ch. Gorrmae's Cashmere V Bolero LC13
 Ch. Bolero Hard Rain V Deerfield
 Ch.BIS BISS Soquel's Distant Thunder
 BIS BISS Ch. Hugadobe Hot Flash V Bolero
 Ch. Gorrmaes Mysteria

Ch. Lilly's Ode to Apollo

 Ch. Gorrmae's Aster Drift