Welcome to Bolerodobes.  Learn more about us by scrolling down and browsing through our pages.
Latest News:  Saucy Ch. Ravenswoods N Vonduras Hot Sauce V Bolero CAT BFL1will be bred Spring of 2018,  Enjoy the pictures and Videos from Saucy's 2017 litter.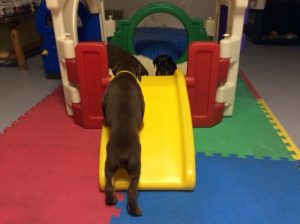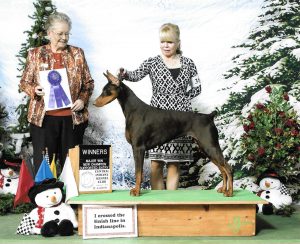 The allowable colors of the Doberman are black, red, blue, and fawn.  White is not an allowable color.
Learn more about the white/albino Doberman here.  Albino is NOT a color!
We follow the Doberman Pinscher Club of America's Code of Ethics.
For more information visit the DPCA at www.dpca.org
Layla is pictured with Jocelyn Mullins.  Layla finished with 3 Major Wins at 11 months of age. Thank you to the judges, Jocelyn and Vicki for showing Layla for us.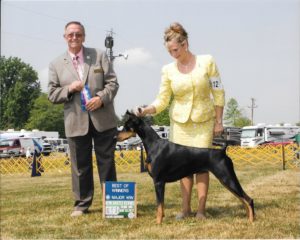 GCh. Bolero Little Black Dress Up v Deerfield OAJ OA ROM health tests(January 2016 Normal Echo, August 2016 Normal Holter, VWD Clear, Thyroid Normal, OFA hips good, elbows normal, DCM1 negative)
http://dobequest.org/profile.php?DOGID=46658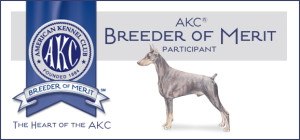 Welcome to Bolero Dobermans! We are located in Fenton Michigan and show dobermans in conformation and performance venues.  We occasionally breed and strictly adhere to  the DPCA Doberman Standard and Code of Ethics.  Our Family fell in love with this breed in 1991 when we added "Flash" to our Family.    We are proud to say that in very limited breeding we have produced some amazing Dobermans!  We have bred/owned 18 AKC Conformation Champions, Multiple Working Group Winners, Multiple Top Twenty Contenders in Obedience and Conformation!  Multiple National Award of Merit Winners, ROM's and WAE's. Multiple Agility Titled Champions and most recently an Agility Top Twenty Contender and winner for two consecutive years.  As well as RATI and RATO Titles!  We have also produced BEST IN Show Winners , multiple Puppy Champions and Futurity Winners. Our Dobermans along with their owners have been very good to us!  We are  proud of the treasured pets our girls and boys have produced.  They bring joy, companionship and security to their owners lives each day. We breed to the Doberman Pinscher Club of America Standard.  We  breed for longevity, health, conformation and temperament. Our dogs love to work but are also easy to live with and family member first and foremost.
  Some of our dog's and owner's past accomlishments…
We are  proud of Layla's sister "Spark"
CH MACH3 Bolero Red Shatter V Deerfield MXC MJB2 MXF TQX T2B3
Yvonne and Spark do it again!!! Spark wins the 2016 National Top Twenty Event, her second year in a row! Congratulations to Yvonne, Dave and Spark.  We are so proud of all of you achievements!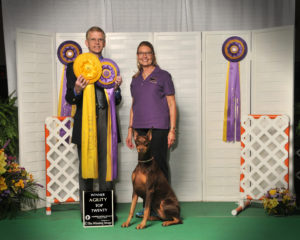 Congratulation to our FIRST Top Twenty Agility Contender and WINNER!  Spark wins the 2015 Top Twenty Agility Competition at the DPCA National in Lancaster, Pennsylvania.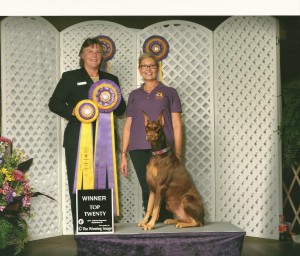 Spark and Yvonne's Jumpers run at the National
https://www.facebook.com/yvonne.mancino/videos/10206080445345189/
We are very proud to begin 2015 with a new AGILITY and Conformation Champion!  Congratulations Ch. MACH Bolero Red Shatter V Deerfield  MXS MJS  XF T2B ROM "Spark".  Spark is owned by Yvonne and Dave Mancino.  You can see one of Spark's Excellent Jumpers run on the link below.
Yvonne and Spark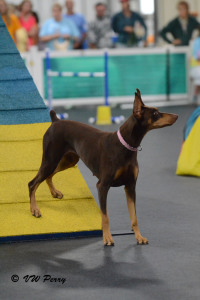 .https://www.youtube.com/watch?v=B-jcWD6OI4k&feature=youtu.be
Our Newest Champion!
Ch. Ravenswoods N Vondura Hot Sauce V Bolero finished her Championship two days after her second birthday! Saucy is pictured with her handler Vicki Seiler and Judge Virginia Lyne
Lake is the first Doberman female to earn her RATCH!  Jill and Lake are a great team and we are proud of their hard work!
Some of our achievements from the past….
Penny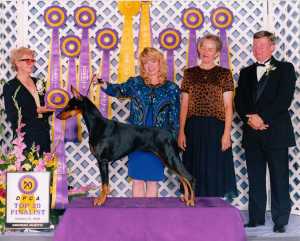 Penny at the Top Twenty Number 2 Doberman Bitch
The allowable colors of the Doberman are black, red, blue, and fawn.  White is not an allowable color.
Members of the Doberman Pinscher Club of America since 1993
Members of the Doberman Pinscher Club of Michigan
Members of the Doberman Pinscher Club of Detroit
How To Judge The Doberman Pinscher
https://bolerodobes.com/uncategorized/judging-the-doberman-pinscher/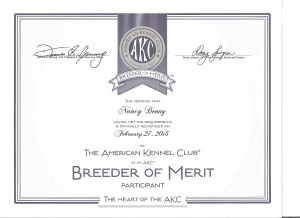 Our first champion
Ch. Hugadobe Photoflash WAE
Flash was bred and produced the Number 2 doberman bitch in the country in her first year out as a special!
"Penny"  BIS BISS Ch. Hugadobe Hot Flash v Bolero CD ROM
"Penny" with Vicki Seiler and Breeder Judge Pam Foulk
Penny was bred one time and produced three champions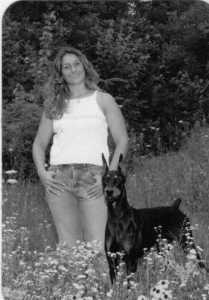 "Tori" ( Ch. Bolero Kiss the Rain v Deerfield WAE) was finished by her owner and Junior Handler, Kala Brown!