Luke at 7 months at his first show winning Best In Sweepstakes under Judge Gary Cooper.  Patricia Murray, Luke's handler using her amazing talent to show Luke to perfection.
Bolero The Force Awakens
( BISSGCh.Kettlecove N Ashtricks St. Elmos Fire X GCh. Bolero Little Black Dress Up V Deerfield OA OAJ ROM)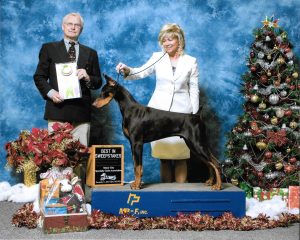 Luke is VWD Clear (complete health testing will be completed when Luke is 2 years of age).